On march 15th I started my push for riding level hashtags, with the promotion of a "riding hashtag id lookup tool". A week later a blogger posted a blog with suggestions for alpha-acronym based riding hashtags. I have had a couple people suggest they would be better than the EDID numeric hashtags I am using, this is my response to those queries.
I created the riding edid hashtags before that blog post was made and the edid hashtags have since really started to gather attention and usage. The Hashtag lookup tool has been retweeted by over 100 people http://politwitter.ca/page/edid_lookup and the riding hashtags have been used 220 times already.
I explained most my reasoning on the lookup page, but here is some more detail.
Why do we use hashtags? To categorize tweets so others can find tweets along the same topic, so uniqueness of a hashtag is paramount. This is one of the main reasons I chose not to pursue acronyms, so many acronyms or short-forms of riding names would result in hashtags already in wide usage on Twitter for things not related to Canadian Politics. If they are not in-use now, there is also a chance they could be taken over by some obscure foreign topic in the future. The author of the hashtag blog list didn't take much care in choosing hashtags, he just used obvious shortforms or acronyms, SOOO many of those result in hashtags that would be flooded with non-relevant tweets. Making following those hashtags rather useless for those ridings.
I decided several months ago I wanted to capture riding level tweets, so I considered several options, and consulted with several others about it. Having unique hashtags is important for the user experience but also for Politwitter since I want to index all these riding level tweets so I can do riding by riding analysis of things like sentiment and volume.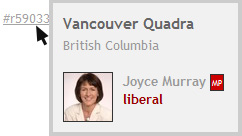 Since riding hashtags are meant to be for tweets about a specific riding, it's not as important that I know what the riding hashtag for Oakville is, All I really need to know is my own riding. For people who are interested in other ridings, I have made it easier to see what the riding hashtag represents on Politwitter by creating a hover box with details about the hashtag when you place your mouse over it. I am also working on a couple new features on Politwitter to make remembering riding hashtags easier on Politwitter, for people that use the site to tweet.
People can also use other hashtags in their tweets that are more human readable outside the Politwitter site, but it just makes it so much easier to index riding related tweets using the edid tag. With the tweets that contain hashtags, many often contain multiple hashtags anyway, It's very. So I encourage people to sue both.
I am also indexing tweets that contain the riding name in the tweet, so riding tweets can also be indexed that way.
I cannot endorse or promote that list of hashtags from the blog, not enough thought was given in their uniqueness. I started down the acronym road over a month ago but quickly found out it was not practical, trying to find acronyms that weren't already used, resulted in hashtags that were no more recognizable that the edid number. However if a particular riding acronym hashtag is found to be in wide use I will of course add it to the Politwitter database like I do for any Canadian political hashtag. As long as it doesn't have a large percentage of non-relevant tweets also using the same hashtag. And I encourage anyone to contact me via email or a tweet with any suggestions of riding hashtags they think are in wide use. But I will continue to promote the riding edid hashtags as the defacto standard, its usage is growing each day.
But Like I said if there is a another hashtag growing in unique usage in a riding, I will add it to the Politwitter database and riding hashtag lookup tool, which will suggest both.