August Recap
Well another month passes by, the 4th full month Politwitter has been running and it was the busiest month yet! The daily visitors to the site rose sharply and now maintains a nice average. Back in July there was several spikes but it would go down after. In august the site received over 6,000 unique visitors and 30,000 page views.

I am also excited that many visitors are starting to use the user functions of the site, people are logging-in and using Politwitter as their Twitter client. This was always one of my goals.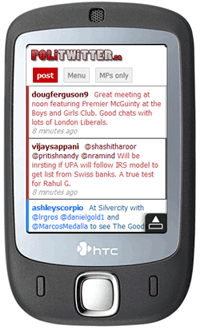 More people are using the mobile version of the site as well, so I did some work on the mobile site this month to clean it up and make it even faster loading. The politwitter widget is also slowly getting used, the widget had 8,100 views in August plus 50,000 more from
Canadaka.net
.
August was also a busy tweeting month, with the NDP Convention and 6 new MPs joining Twitter! It was a busy month for Liberal Tweeters, they soared ahead of the Conservatives in number of Tweets.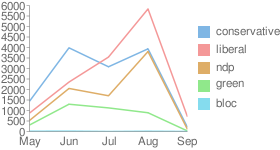 With the possibility of an election looming this fall, I hope and expect visitors to keep rising, summer is usually slow for politics. I am continually improving the site and adding features, and if an election is called expect a bunch of election content!
I want to give a
big thanks
to everyone who has blogged or tweeted about the site. The more exposure the site gets, the more pressure on MPs to start Tweeting! Another shoutout to those who helped me track down some bugs this month and anyone who has offered feedback and suggestions!
6zpus5wknx