I just realised that Politwitter.ca passed its 1 year anniversary last week! I haven't had much time recently to add new features to the site, but it has continued to operate well and there were several large backend tweaks.
I've been pretty happy with how well the site has done, I didn't know what to expect when I started a year ago. Overall I think the amount of traffic the site gets is lower than I had hoped, with the exception of the crazy spikes in traffic the site gets when there are political events like provincial elections and party conventions. It's been super cool that the site has caught the eye of the media, being featured in numerous articles, magazine article, and several radio stations. I've also received many emails from people in the press & members of parliament. Unfortunately in the web world none of that really translates into much of an increase of site traffic. This I pretty much knew already from my years of experience promoting other sites, much more important is search engine optimization which was a primary focus from day one. The majority of new traffic Politwitter gets is from search engines, over the last year Politwitter has ranked very well in anything to do with Canadian political twitter.
I also tried a news release for the first time with Politwitter, there was no noticeable boost in traffic as a result of that, and one can't tell if any of the press attention came from that. I think the money is better spent on Google ads than a press release...
In my modest opinion Politwitter is the best and most fully featured national political twitter aggregator (see others
here
), with maybe the exception of the newly redesigned
tweetminster.co.uk
in the UK. But they have venture capital money with a staff of developers! Politwitter has no funding and has cost me lots of my own time & money.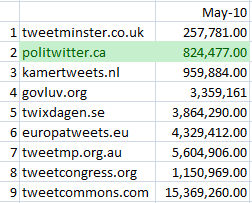 Every month I track a bunch of variables comparing Politwitter to other political twitter sites to see how it compares. Here is one stat using alexa which is not very accurate to judge the actual amount of traffic a site gets but is somewhat useful to compare sites. Politwitter is only beaten by the well funded Tweetminister.
While we're on the subject of stats here are some more, because I like stats!
Unique visitors (approx): 70,000
Pageviews (approx): 300,000
Total Indexed tweets: 520,677
Total Indexed tweets by MPs: 22,591
Total Indexed tweets by MLAs: 17,009
Politwitter Widget Views: 469,792
MP videos indexed: 557
Twitter pictures indexed: 5,534
People who have logged into Politwitter: 3,045
Used the Politwitter follow feature: 4,845
Used the Politwitrter search: 25,374
Posted tweet from Politwitter: 2,128
Invitations sent to MPs: 805
People using the Politwitter Facebook app: 6
Donations to site: $0
Number of MPs on Twitter before Politwitter launched: 39
Number of MPs on Twitter currently (May 2010): 99
So the number of MPs using twitter has more than doubled since this time last year, I like to think that Politwitter might have played a small part in that. The next year will be interesting, because I will be able to compare all the stats against the previous year, to see the amount of tweeting is increasing.
It has been fun working on the site, that's the only reason it exists, because of my personal interest. A site like this doesn't make money and there are no ads on the site. Even if i plastered the site with ads it wouldn't be worth it. But the site does take a lot of time to develop and maintain. I am
accepting donations
to help fund further development and upkeep of the site, but no one has donated in the past year :(
If you ever have any ideas about how to improve the site or a feature or statistic too ad, please
let me know
!