What is poliTwitter?
poliTwitter.ca is a fun new way to utilize twitter to stay on top of the latest in Canadian politics. From one easy location keep track of what your politicians are saying on social media and what regular Canadians have to say about current politics.
poliTwitter not only tracks MPs & Canadian politics on Twitter but also Facebook, Youtube, flickr, blogs and hansard from parliament.
poliTwitter does the searching for you maintaining a detailed list of politicians on twitter and political hash tags . You can view tweets narrowed down by partisan party affiliation, province, MPs and more.
poliTwitter is a non-partisan service that strives to connect elected MPs & MLAs with the Canadian people. Encouraging all MP's to join in order to make government more transparent.

In addition to gathering together all the relevant tweets, Politwitter doubles as a complete Twitter.com replacement, you are able to tweet, retweet, post pics, shorten URLs & more directly from the site.
This site is under constant development, it was started April 29th, 2009. More features and functionality is planned and if you have any suggestions or bug reports please contact me. Find out more about how to use the site on the help page.
data sources
poliTwitter in the media













view more
Blogger Buzz
"On the eve of my Toronto visit for launch of HuffPost Canada discovered poliTwitter.ca -- a Canadian politics social media one stop shop!"
Arianna Huffington
"Enter Politwitter.ca, which in recent days has become social media HQ for the campaign."
Decision Canada
"PoliTwitter is a comprehensive repository for following any and every MP or MLA in Canada, and finding out what they have to say in an easy, sleek, and navigable environment."
National Politick
"You should definitely check out the very nicely designed Politwitter"
David Akin
"This tool - note I say tool, not attraction or novelty - single handedly keeps you in touch with every twitter-using MPs not to mention bloggers, newswires, and propaganda tubes."
Canadian Spades
"tracks the Twitter activity of individual MPs, Senators, journalists and other political actors and observers (including yours truly), including stats, a directory, and rankings"
Pundits Guide
Help Spread the word
Help spread the word about Politwitter.ca and encourage MPs without Twitter to join.
Click here for banners you can place on your website and link to http://politwitter.ca/. Also check out the widget you can put on your blog!
Who built this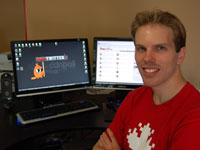 Trevor May
(Vancouver, BC)
@Canadaka
Politwitter was created from scratch by myself, Trevor May. I am a super patriotic Canadian and have a keen interest in Canadian politics. I created a website called "Canada Kicks Ass" in the late 90's which has grown into a large & active Canadian news, content & forums community. I have since expanded the CKA Network to include several sites focused on Canadian conent.
Other Projects
Disclaimer
politwitter is not associated with Twitter. Twitter is a registered trademark of Twitter Inc.
Politwitter is not responsible for content on the site. We don't create or choose any of the content that appears on the tweet pages.