Please contact me if you have any questions, feedback or suggestions. If you're interested in helping with the site, I would love to talk.
Email: or twitter @cka_politwit.
For feedback, ideas & bug reports also visit politwitter.uservoice.com
If you are a member of Parliament, or run a political blog and would like your Twitter feed to be indexed by the site and included on the list, please use the submit/join page.
Who built this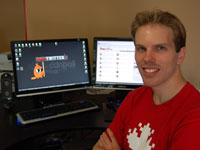 Trevor May
(Vancouver, BC)
@Canadaka
Politwitter was created from scratch by myself, Trevor May. I am a super patriotic Canadian and have a keen interest in Canadian politics. I created a website called "Canada Kicks Ass" in the late 90's which has grown into a large & active Canadian news, content & forums community. I have since expanded the CKA Network to include several sites focused on Canadian conent.