Federal Riding Hashtag ID Lookup (edid)
enter your riding name or postal code to find your federal riding number (edid).
Tweet
When the next federal election is called there is no doubt that Twitter will play a part and political tweeting will sharply increase during an election campaign.
We often use hashtags to help organize our tweets, Politwitter maintains a list of Canadian political hashtags. But during an election it will become harder to find the tweets you're interested in, especially if you are looking for tweets about your local riding. That's why Politwitter is trying to standardize a way of tagging tweets related to your riding with use of a hashtag that uses your ridings Federal riding ID (EDID).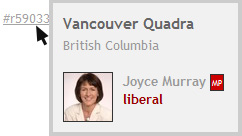 Riding names are too long for hashtags and other regional acronyms like airport codes such as YVR are not specific to a riding. Using acronyms or shortforms of riding names also doesn't work well because many of these hashatgs will already be in use by the rest of Twitter, we need something UNIQUE. So that leaves the EDID number. The problem with EDID numbers is they are not very human friendly, most people probably don't know their local ridings EDID number. That's why Politwitter created this simple page for people to lookup their local EDID number searching by their riding name or postal code.
To further help distinguish the Canadian riding hashtags from the rest of Twitter add the letter "r" before the EDID number. Politwitter will be indexing any tweets tagged with edid hashtags. You can follow tweets tagged for your local riding using our riding social media pages or your favourite Twitter client, so the benefit is universal!
Example: #r59030
For this to work effectively people need to use this format and
SPREAD THE WORD!