Here are some tips for MPs and Candidates on how to best use social media during a political election campaign.
1) USE HASHTAGS
A hashtag is a way of categorizing or tagging your tweet by adding the pound symbol (#) to the front of a word. This allows you to join conversations on Twitter and makes finding your tweets easier. Here is a list of Canadian political hashtags you can use.
You can also add a local riding hashtag to your tweets that are about issues related to your riding, this makes it easier for your followers and Politwitter to filter tweets about your riding. Use this tool to search for your riding hashtag, most ridings use the federal EDID number as the hashtag, example #r48007 is for the riding of Calgary Southeast.

2) BE AUTHENTIC
First and foremost, know that people relate to other people. Since social media allows you to connect directly with the public, be sure your updates (no matter if they're text, audio, photo or video) speak to people. Don't think or "speak" in headlines, media releases or talking points. Think and "speak" coffee shop. This means balancing partisan politics with being a real person (perhaps with a family) immersing themselves in an intense campaign. Also, if people discover you're a human being, they'll think of you more that way and will be (generally) more forgiving if you make a mistake online.
3) QUALITY OVER QUANTITY (SIGNAL-TO-NOISE)
Your own constituents may be following the social media activities of several candidates, not just you. Journalists, analysts, pundits and enthusiasts will be following more than that. Make your updates valuable and interesting for the public (even the fun ones). This also means making sure your content is sufficiently unique on each social networking site to make each worth joining. If you put out too much content that doesn't resonate with the audience, you will be ignored as noise. You want to be signal. Signal gets shared by others.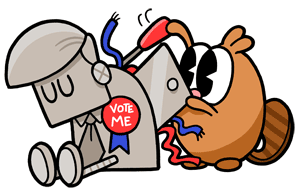 4) ENGAGE
Social media has generated a digital culture, a culture which expects more from participants than just fresh, self-serving content. Candidates need to engage with others during the campaign. That means following the conversation about you, your campaign and your opponents and colleagues. Follow journalists who are covering your area and the people in your constituency. Look for opportunities to converse with them the way you would during a door-to-door visit. It may be about the election or the local pee-wee hockey league your daughter is in. Remember, think coffee shop.
5) MAKE YOUR CONTENT SHAREABLE
Tweets can be re-tweeted (re-broadcast by others). Photos uploaded to Flickr (and other photo sharing sites) can be linked-to or downloaded and used on other websites. Videos uploaded to YouTube (and other video sharing sites) can be linked-to or embedded on other people's web sites and social networking accounts (think Facebook).
That's not enough. Make sure your website and blog makes it easy for others to announce updates on your site by putting "share this" icons (and the supporting functionality) on your site. You get bonus points if you make your content available under a Creative Commons license. Legally, content that is All Rights Reserved cannot be shared or republished without express written permission. It's a copyright thing. Creative Commons allows you to specify the implicit conditions under which people can use/share your content.
6) SHARE OTHER PEOPLE'S CONTENT
If you notice links to other people content or stumble on interesting articles, videos and photos, mention them and provide links form your website, blog and/or social networking accounts. It's a great way to help your own community and get the attention of the people whose content you're promoting. Plus, it shows that you're on the lookout for great information.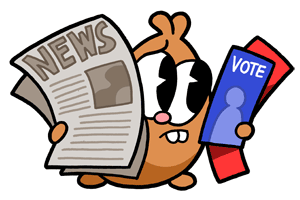 7) KNOW HOW TO MEASURE SUCCESS AND WHO TO TELL
Don't bother telling the media or public how well you're doing online. Don't publicly announce how many followers your Twitter account has, how many people "Like" your Facebook Fan Page or how many views your video has accumulated. Population doesn't equate to influence or votes and saying or suggesting so shows how little you know about social media. Success metrics should be connected with specific campaign goals and be shared with your campaign team and party observers. Start by measuring engagement and the outcome of calls to action. If you're successful online, people will be reading, replying to and re-broadcasting your content, clicking on your links, volunteering and donating.
You can use the various Politwitter statistics pages and lists to see how your compare to other MPs and candidates.
8) DON'T BE TOO PARTISAN
It's an election campaign. The public expects candidates will be partisan. They've also come to expect some mudslinging. However, they see enough of that in campaign materials, media coverage and debates. There's a fine line between bringing people's attention to the bad and sounding like a "griefer" (someone who complains online… a lot). Your politics should be clear, productive and actionable.
You are encouraged to add partisan hashtags to your tweets when appropriate.
9) USE THE RIGHT TOOLS FOR THE JOB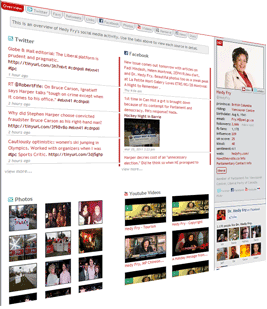 In 2008 there was a lot of talk about the use of Facebook in the election. Many people suggest 2011 will be The Twitter Election. Facebook and Twitter are just tools. And, each tool has benefits, limitations and specific audiences. Twitter, with its 140 character limit, is perfect for bursty information, quick updates and most importantly, directing people to your website and other online content. In fact, it's becoming more common for Tweeters to issue multi-part Tweets identifying them as 1/3, 2/3 and 3/3. This puts the onus on the reader to find and reassemble the conversation. Clearly, Twitter is not the right tool for that conversation. A blog post or Facebook update which can be linked from Twitter is a better solution.
More about tools. Facebook is better for more meaningful discussion which can be easily promoted to other networks with a single click. Flickr is a great place for posting photos of campaign activities, events, travels and people. Among other things, YouTube can be amazingly helpful at helping share campaign policy and other information which may be more difficult to put in writing. Blogs are perfect for longer form thoughts, explanations and striking the balance of campaign and personal journaling that speaks to the public.
You might be worried about spreading your message between all these tools and people interested not knowing where or how to follow them all. That's where Politwitter comes in, making it easy to find MP and candidates social media profiles and aggregating all that content to a single source.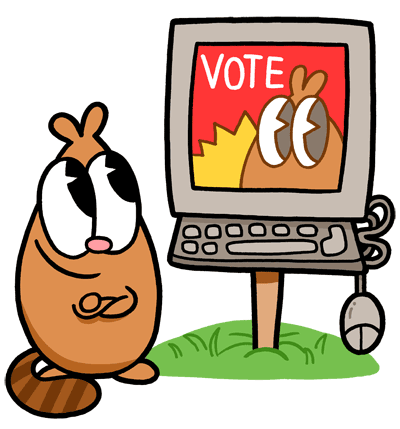 10) CONNECT THE DOTS
All of your online activity should be connected, ideally in a hub and spoke model. That is, your website should be your online campaign headquarters. Then, your chosen social networking and digital media accounts become outposts (or beach heads) which direct viewers back to your website. So, be sure all of your accounts have complete biographical information to help identify you (this includes a proper description and photo) and have a link back to your website. Make it easy for your constituents to find you and follow you.
Also make sure your Politwitter profile is complete with all your social media accounts. You can also link to your profile on Politwitter.ca providing your audience with a centralized hub all all your social media activity.
The bulk of the written content on this page was courtesty of Mark Blevis, the cartoon graphics were made by my friend JJ of Filibuster Cartoons.